Following income
Track your Budgeted, estimated and relised turnover. Make your forecasts with the weather recorded day by day. Create your personalized performance indicators (outdoor events, cinema releases ..)
Staff management
All the information about your staff available in one click, presence, trial periods, salary, personal documentation. Our planning solution will simplify your life.
Purchasing goods & Stocks
A simple purchase system - Place your orders, check your goods receipt, reconcile your bills, make your requests. Make inventories and stock movements.
Managing financial flow
Create cash flow reports and forecasts that give you the opportunity to analyze and visualize it
Managing sales
Analyze your turnover, collected from our POS partners
Manage your staff
Plan and organize your staff effectively in just a few clicksAll information about your staff in one place: attendance, trial periods, salary, shedule and personal documentaions (identity card, social security card, bank details, photo, etc.).Follow-up your alerts, end of trial period period, end of period of residence cards.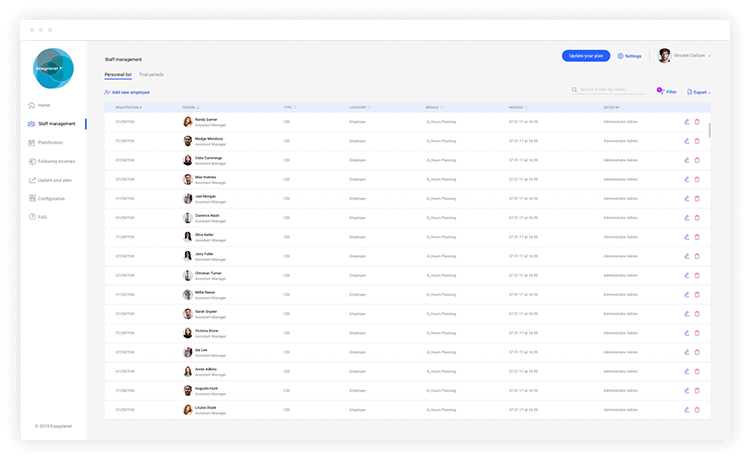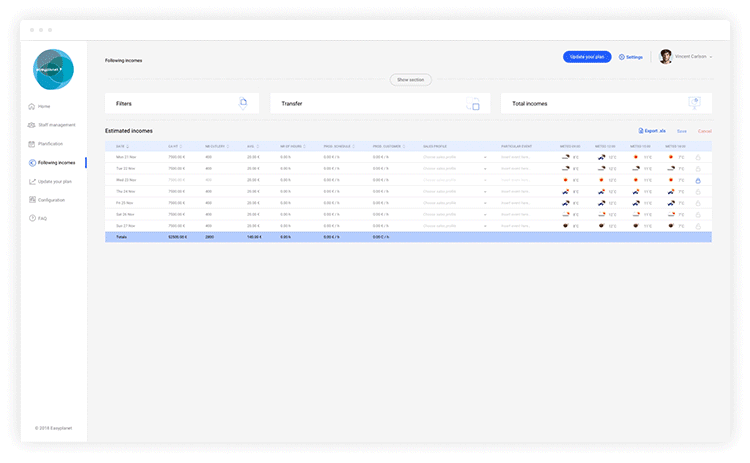 Following income
Get and visualize important information to analyzing and optimizationActual information about real and estimated incomes, difference between them and weather forecast nicely visualized with the use of graphs and charts.
Track your time
Reporting about your working hours directly in the Easyplanet mobile app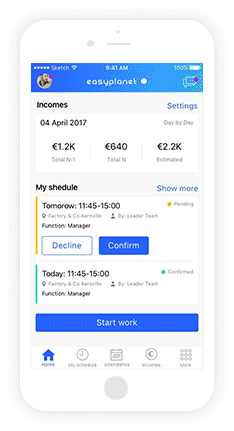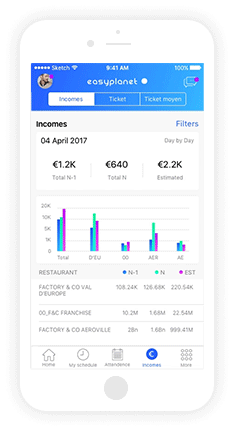 Stay connected
Track activity of your units from your mobile app. Analysis day to day or date to date.
Pro version
Perfect solution if you have more than one establishment
How Easyplanet Will Change Your Life?Our solution has been designed and developed by experts of your activities.Follow your activity.Manage your staff, make your schedules, prepare your pay.Optimize your purchases, and your stocks.Stop paying for a bunch of different apps and enjoy the simplicity of an all-in-one service.Get the pulse of your business in the blink of an eye.