Our Solutions
Our first job? Restaurant business.
As former restaurateurs, we understand your necesseties. This is why we have developed technological know-how and created Multi: the precise, multi-tasking tool to manage your restaurants.
Management of turnover
Track your budgeted, estimated and real turnover. Anticipate your flow with the weather recorded day by day and create your personalized performance indicators (outdoor events, cinema outings, etc.). Collect this data from our POS partners.
HR solution
Easily manage the life of your company and your employees: planning, absences, trial period, salary, personal documentation ... All information about your staff is accessible with just one click!
Products management
A simple purchasing system to do your inventories and manage stock movements: place your orders, control your receipt of goods, reconcile your invoices, make your credit notes.
Financial flow management
Create cash flow reports and forecasts for better visualization and analysis.
Laboratory management
Managing your restaurant ... right down to the laboratory: create production schedules, monitor activity and anticipate supplies to optimize quantities and save money.
Manage your staff
Plan and organize your staff efficiently in just a few clicks. All the information is grouped together to make your daily life easier: attendance, trial periods, salary, schedule and personal documentation (identity card, social security card, bank details, photo …) Also follow your alerts: end of trial period, period of consideration, end of residence permits …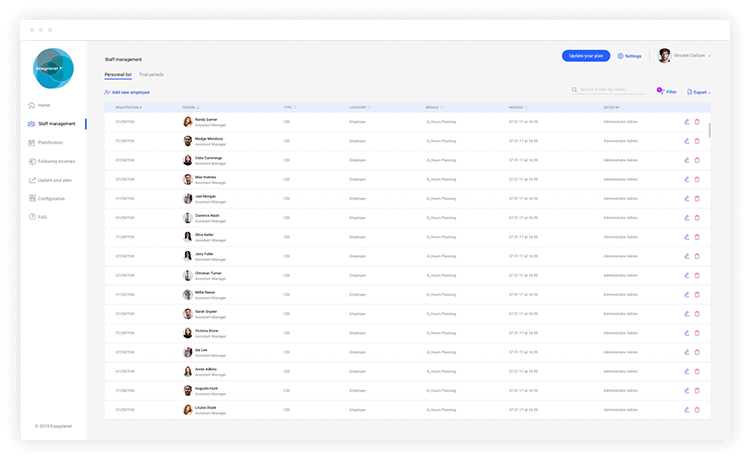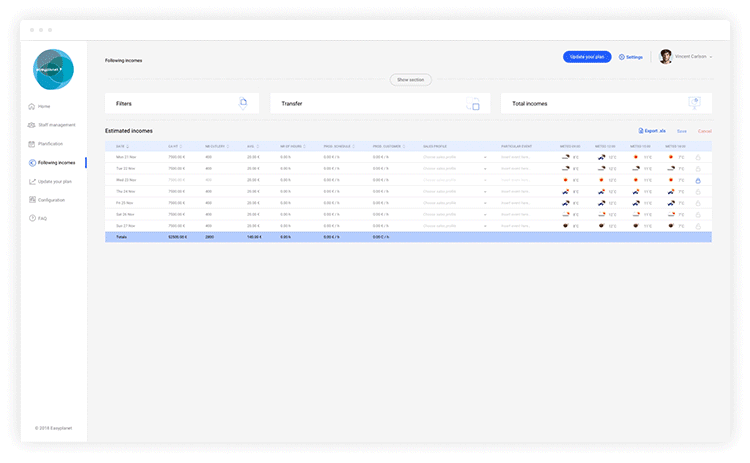 Control your turnover
Receive and visualize important information to analyze and optimize your figures: you access essential information on actual and estimated turnover, highlighted with variances. As a bonus, we indicate the weather forecast to anticipate your future flows.
For you and your employees
With the application, easily analyze the working hours of your employees. A version of the app is also available just for them, with our connected time clock system.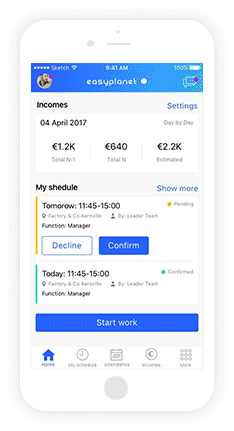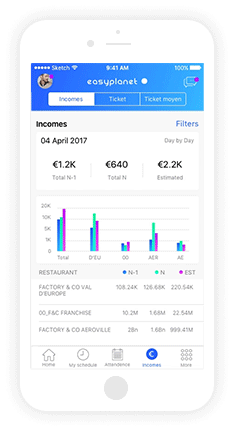 To monitor your performance
Track the activity of your units from the Multi mobile application, with day-to-day or date-to-date analysis.